It is Saturday again...how does that happen?  The weeks just fly by, don't they?  It is almost the end of June already.  July is coming....and it's a big one!  I have to say I'm a little stressed by it, honestly.  I have been preparing all along, which is good.  I don't like having a big, stressful rush at the last minute.  So, I've been getting ready bit by bit, day by day so that it will go smoothly.  I'm sure if you've been around you know all about my schedule - the 'Happily Hooked' dyer article, the Fiber-U Festival, the Trunk Show.... it's all coming.  Ready or not!!! But I think I'm ready. 
What I wasn't ready for, was the problem with my sock yarn.  I select yarn based on what I like best.  I select what I would want to knit with - for socks, a shawl, a cowl, a sweater (if I ever made a sweater).  The sock yarn I have is a 2 ply high twist 75% superwash merino/25% nylon, 463 yards/100 gram skein.  Perfect for socks, but soft enough for shawls and cowls.  However, there has been a problem with this yarn that is not acceptable to me.  Apparently related to the Covid (isn't everything), corners were cut and I won't be carrying this exact yarn for awhile, if ever again.  I am getting a new sock yarn that is 80% superwash merino/20% nylon.  It is just slightly thicker at 400 yards/100 gram skein.  It is the thickness of the 'Day at the Beach' yarn many of you have used already.  It is this yarn without the black ply. I thought it might seem a bit thicker, but I couldn't really tell the difference at all when knitting with it.   I am hopeful that it will be perfect and the transition seamless, and I have been assured there are no reported problems with this yarn.
[The sock yarns I already have are good.  I have tested and retested them and all of them are super nice and ready to knit or crochet with. So no worries there.]
This week I dyed loads of roving...a totally different sort of dyeing process.  Takes longer to get into the cooking pot, all hand painted, has to cool totally before rinsing so that takes longer, but a much cooler day as there are fewer pots steaming away.  I love dyeing fiber.  There is so much potential in a roving...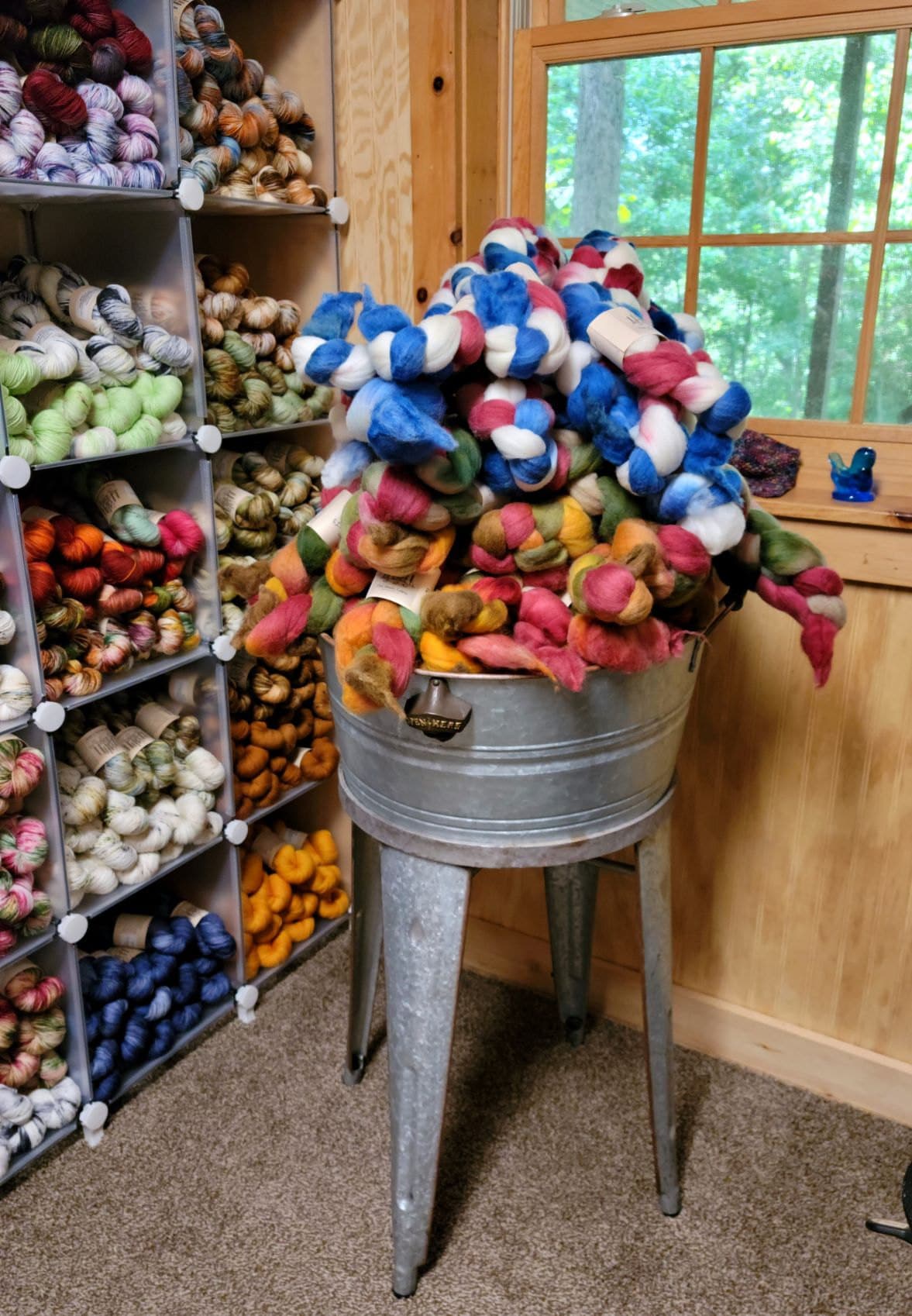 I haven't listed these in my shop yet.  I need this to fill a rack in my booth, so whatever is left over will be posted after July 18th.  
So that was my week.  I hope your week went well and all of your problems were solved.  Have a great day!!!