So, if you've been around, you know that I'm getting ready for Fiber-U next weekend.  The first in-person show in 2 years and still one of the few this year.  And in the heart of super high Covid numbers.  I am glad I am vaccinated.  
What you may not know is what it's like to get ready for a show.  I'm going to give you a little behind the scenes today.  
I start counting skeins long before the show date.  How many do I have?  How many do I need?  I estimate how many skeins fit in my display and then try to dye many, many more.  People often ask, "How many skeins should I bring to a show?"  The answer is as many as you can.  I have never thought I brought too many and have thought I brought too few even though I brought as many as I could.  So I dye up extra yarn and build up my inventory to try to have "enough."  This year, the Happily Hooked magazine article came out July 1st and so sales have been brisk.  I'll let you in on a little secret....I *almost* wish sales were down.  I say almost because a sale is a sale and I'm certainly not taking this increase in sales for granted.  But...every skein sold on-line is one less skein I can take along to my show.  I have dyed up batches of certain colorways that are selling well and set them aside not posting them in my shop so they don't sell.  Especially colorways that I have samples knit up in.  Do I still have enough?  Oh probably.  Do I wish I had more dyed up?  Of course.  I do have several bags of roving dyed up that are not posted on line to fill up a huge section of my booth.  What am I saying?  You have to be strategic.  Am I saying 'Don't buy my yarn"?  of course not!!!  I have one more day of dyeing to plump up my inventory and then it is what it is.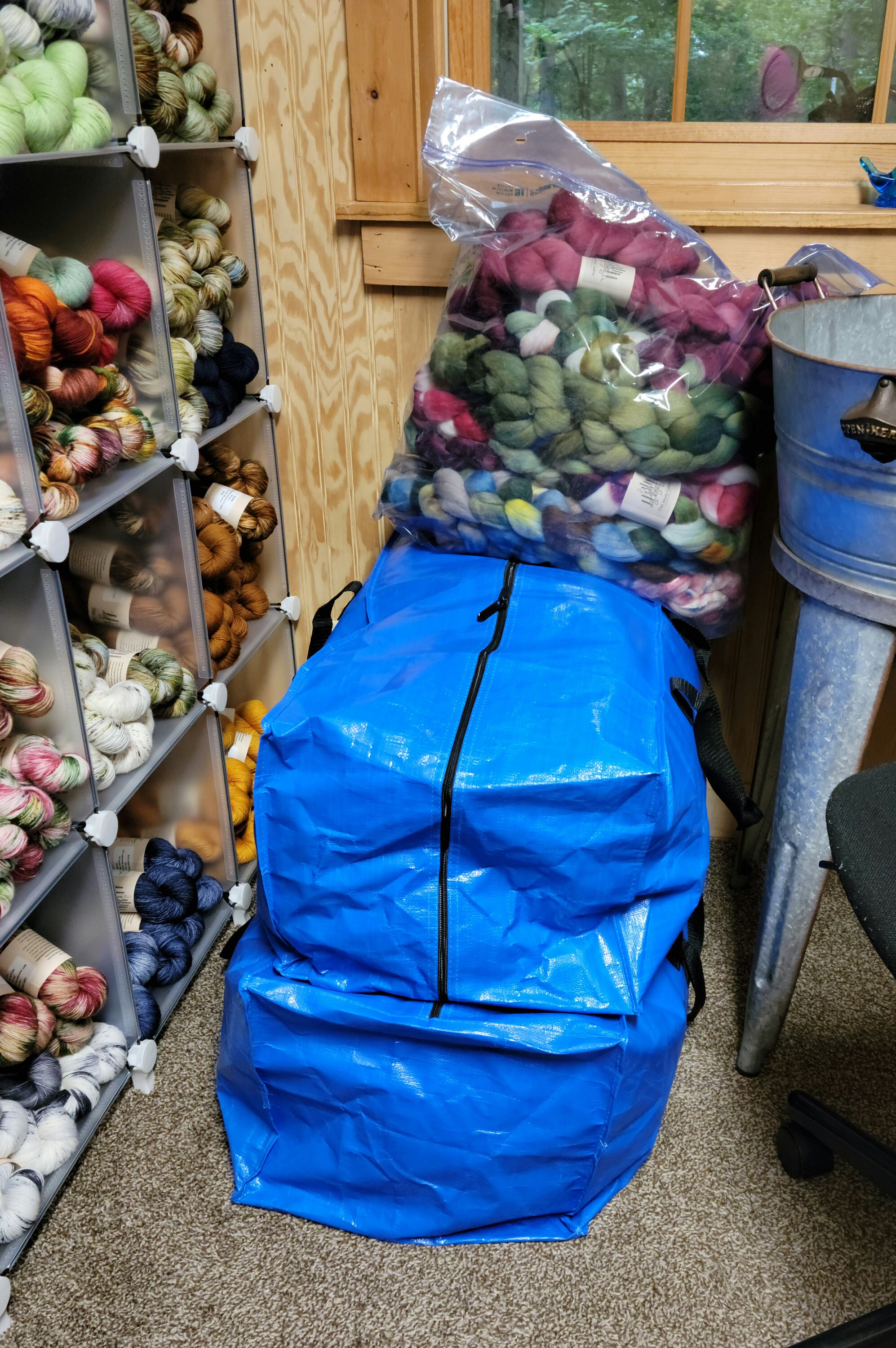 These 3 big bags are full of roving!!!
There is much more to getting ready than just the yarn and roving, however.  There is the whole trip thing.  Hotel room, rental van, and packing.  Then there is the rest of the booth stuff to get ready.  My husband still needs to finish putting together part of a display pegboard.  He makes me nervous because he waits until the last day. He does good work though and is free labor, so I wait patiently.   There are little things - ironing tablecloths, making sure the Square device works, getting together tools, lights, hooks, bags, change, samples, tables, business cards, extention cords, Duct tape, crates and containers, signs, etc.  So much to remember.  I have so many lists going ....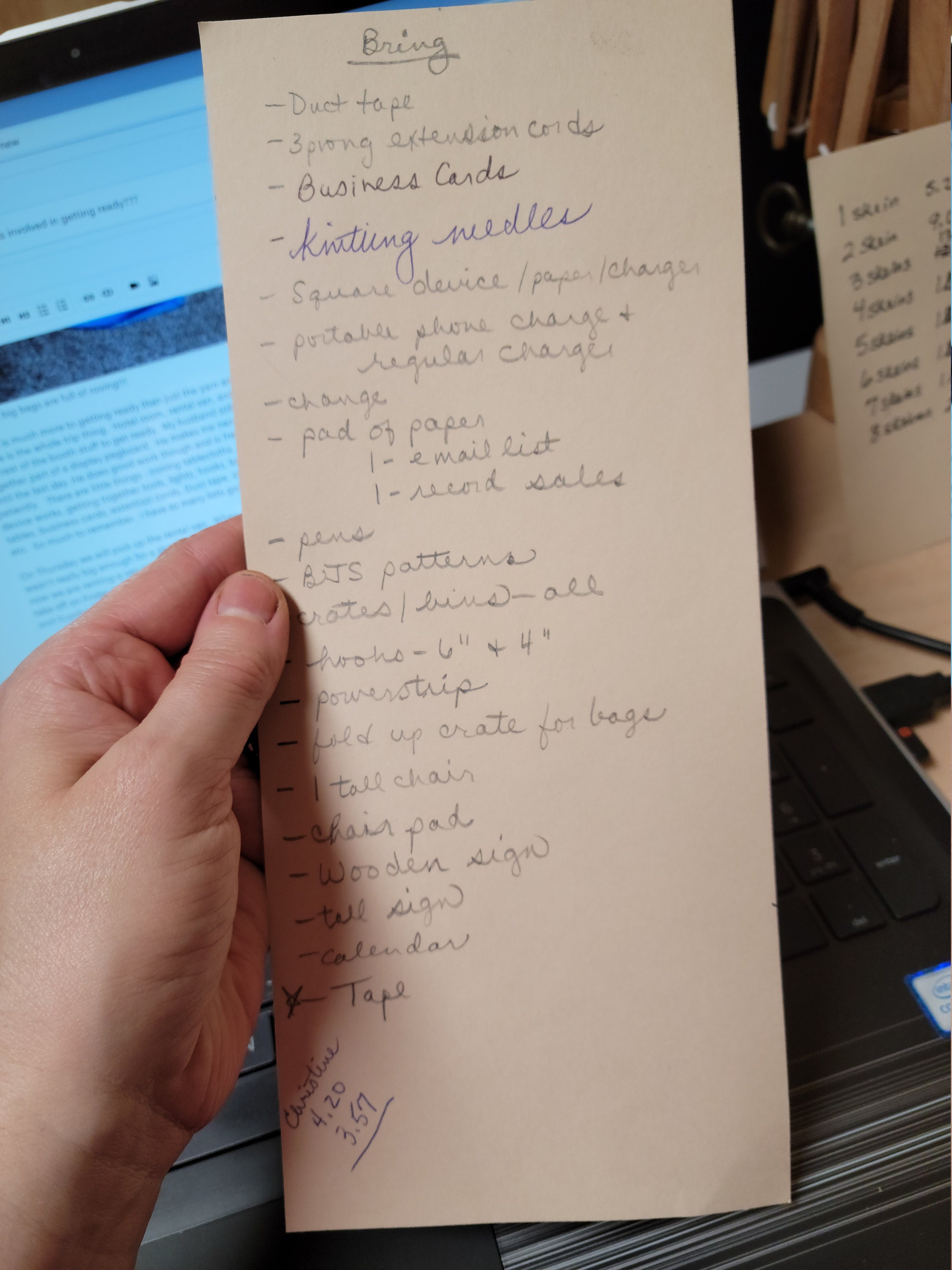 One of my many lists...
On Thursday we will pick up the rental van.  When I bought my Subaru, I knew it wasn't really big enough for a show and I thought I might buy a trailer, but for now we are renting a van and cramming it all in.  We will pack the van so we can take off on Friday morning early.  Friday is set-up day for the show on Saturday and Sunday.  Set up takes much longer than tear down.  I doubt it will take us all day, but I'd like to be there early just in case.  Hoping to be done setting up in the afternoon to check into our hotel room before supper.  
The show is Saturday and Sunday.  Honestly, a show is very exciting!!!  The excitement of everyone is palpable and the sight of all that fiber and tools and the smell of all that wool.  It's intoxicating.  I can hardly stay in my own booth.  I want to go check out what everyone else has.  I am looking forward to it in spite of the work.  It would make my day to see some of you there.  It is a nice size show and there are going to be so many great booths to check out.  
I hope to see you there!!!
(Fiber-U is taking many Covid precautions - masks are up to you but they ask you be considerate of others if you do not mask, sanitizer in every booth that they ask you use before touching the merchandise, I will be sanitizing the Square checkout device, classes have students spaced out and most important - if you feel sock at all do NOT come.)